Be the first to share high-quality live video highlights
Ziggo Sport is one of the biggest sports channels in The Netherlands. First they wanted to increase aswereness. Secondly to show that Ziggo Sport is the place to watch high-quality sports content. Ziggo Sport invests millions of euros each year to broadcast high-quality sports content like; the Premier League, Formula 1, and NBA. They want to quickly share highlights of these matches to their social media channels and platforms, to create awareness for their channel and to convince their audiences to subscribe and tune in live when the next game is on. But in a century where most people have access to technology, it's a real challenge to share the content first and remain the sole owner of their content.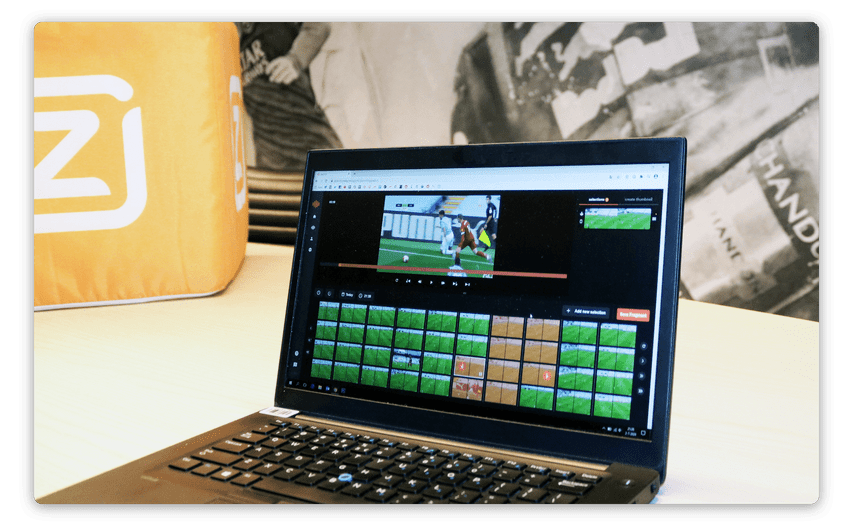 Before Ziggo Sport used SpotOn it took them 30 to 40 minutes to share a highlight of a match. "It is very important to us that we can share clips fast and in good quality. Otherwise the content is no longer relevant. If it takes too long, our audience has already seen it from someone else, who filmed their television or ripped a stream somewhere. You notice that immediately in the reach you have with this content." explained Tim Schwarte, Social Media Coördinator at Ziggo Sport. Now with SpotOn they share their high-quality content to their platforms and channels in seconds. Beating illegal uploads and remaining the sole owner of their content.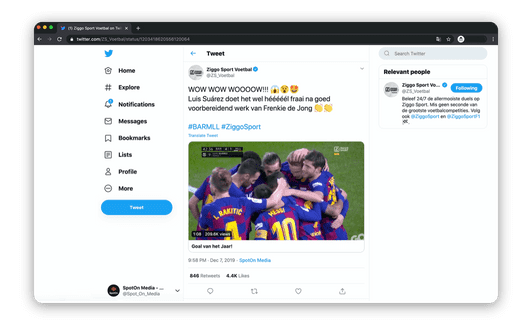 "Now we are the fastest and we have the content in HD. Of course no other social media account can compete with that."
The importance of speed proved itself back in 2016, when Dutch Formula 1 driver, Max Verstappen, was the first Dutch driver to win a Formula 1 race. A historical sports moment and Ziggo Sport broadcasted everything live. "Because of SpotOn we were able to share these last epic rounds of the race to our social media in seconds. You can not imagine how immense the impact was on our channels and on Ziggo Sport itself. Everybody knew instantly that they had to go to Ziggo Sport to see Max Verstappen." Explained Micha Sterke, Marketing & Content Coördinator at Ziggo Sport.
Because they quickly shared this highlight, their online presence has grown explosively. It's not their only success; "We have so much amazing sports content, like matches of Rico and Badr, or the first goal of Frenkie de Jong. And again these reached millions of people, because we were able to share them instantly with SpotOn." said Micha.
Having gained thousands of followers on their social media channels created other opportunities as well. "We also use our social media channels to promote our competitions. Our live content helps to do that. If you share a goal from Messi, that clip has a lot of reach. People will follow, like, and share your channels. If you throw a promo on it later, this will have a lot of reach too." explained Tim.
Inconclusion, they have also gained so many fan-followers for Formula 1 and football  specifically that they've created separate accounts responding to these audiences; Ziggo Sport F1 and Ziggo Sport Voetbal. Creating accounts with content for such specific groups allowed them to get even more followers and engagement than on their main channels. Their advice to other companies: "Be as specific as possible. This way every post you do is a hit and matches the target group." said Tim.
"We gained a lot of new subscribers, the post reached more than 7 million people and our social media following expanded with 50.000 in two days. It was amazing."
Share your video highlights as fast as Ziggo Sport
Curious to see what Ziggo Sport produced with SpotOn?
Check out their channels below: